25 Smart Organizers That Will Change Your Messy Bathroom Forever – All Under $25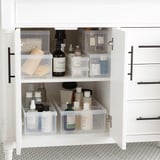 I've been spending a majority of my time lately getting my new apartment in order. In addition to getting rid of all my old junk, I'm making a huge effort to keep all my products organized. One room I was having trouble working on was my bathroom. Then I realized what I needed was the help of handy organizing tools. I went on a mission to uncover the most useful finds the internet has to offer and was shocked at the amount of choices I found.
Ahead, you can shop 25 helpful and cool tools I came across on my journey. I found everything from under-the-sink shelves to toothbrush holders, and the best part: all these finds cost less than $25. Keep reading to spruce up your bathroom today – you won't regret it.