Act Fast! We've Rounded Up 50 Home Decor Pieces Under $50 – All From Target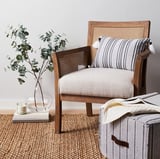 As many shoppers know, it's easy to get lost in Target. The affordable retailer has aisles upon aisles of tempting goods, but above all its charming treasures, home decor is my favorite to buy. There's something to say about the way a new throw pillow adds texture, or how a faux plant exudes a charm that completely changes the look of your space. Whatever room you have that's in need of a lift, Target has the decor for it, and at a price tag your budget can handle.
We took a sweep through Target's inventory and rounded up all of our favorite picks under $50, because who wants to spend an arm and a leg if they don't have to? Hurry and find yourself a new home accessory, we have a feeling they'll be selling out soon!