Unicorn Skeletons Are Available at Big Lots, and I Can't Tell If They're Creepy or Adorable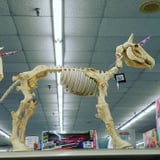 Welp, Halloween shopping is officially underway for Big Lots shoppers, and it looks like the chain is really going there with its collection of spooky outdoor decor. One item that customers appear to be particularly enamored with are these unicorn skeletons that I can't tell if I should love or be creeped out by. The skeletons are made with LED lights in the eye and rib cage areas that light up when placed in the dark. And as if that didn't sound creepy enough, Big Lots is selling a mini version of the unicorn skeleton that not only lights up, but moves and makes noise as well. They're pretty bizarre, but I guess this is proof that unicorns really do exist . . . sort of. Read ahead to see the skeletons in action and shop.
Related: Why Are These Halloween Yoga Skeletons From Michaels More Flexible Than I Am?